Are you about to start your email campaign, or have you already started one without cleaning your email list (bad mistake!)? Are you spending money sending emails to dead addresses? Are you experiencing too many bounces with your email lists? Even worse, is your mass emailing provider threatening to shut you down because of the high bounce rate? We've got you covered!
Bulk email verification tools let you upload your email list, and without sending any emails on their own, they will verify if the emails exist and work. The best services will also let you know if the email is a spamtrap (super important not to send emails to those).
We tested and handpicked the best email list hygiene services. Once you run your email list through one of them (the top one being the best), you will return a list of emails free of any invalid email addresses, spam traps, or duplicates.
Top 5 bulk email verification services in 2020:
#1 EmailListVerify – Best value for your money
EmailListVerify is an advanced, yet super simple (understand – great straightforward UI) bulk email hygiene service. With an average accuracy of 99%, it's among the top of the services we reviewed.
Except for the great UI, every registered customer automatically gets API access to his account (no extra fees). Great for more tech-savvy customers, looking to incorporate Emaillistverify's real-time single email verification into their apps. Uploading whole email lists and cleaning them via API is possible as well!
Easy to use UI yet powerful API makes it a great choice for both single marketers and big agencies.
How does Emaillistverify verify your emails (with explanations)
Domain & SMTP validation (removes inactive or parked domains)
Spam trap checker (identifies spam-trap email addresses and scrubs them)
Disposable email cleaner (removes temporary disposable emails from your list)
Catch-all domain checker (some domains accept emails to any made-up username – save money and improve open rates by removing them)
Syntax errors validator (Detects common syntax errors in domain names – great to use with registration forms with real-time API)
Hard bounce checker (Detecting if the email will bounce without actually sending the email!)
MTA validator (Checks if there is an email server running at the domain at all)
Email duplicates remover (Removes duplicate emails)
Pricing
You can create an account for free and automatically receive 100 credits to use for testing.
| | |
| --- | --- |
| 1,000 emails | $4 |
| 5,000 emails | $15 |
| 10,000 emails | $24 |
| 25,000 emails | $49 |
| 50,000 emails | $89 |
| 100,000 emails | $169 |
#2 Zerobounce – Premium Email List Cleaning Service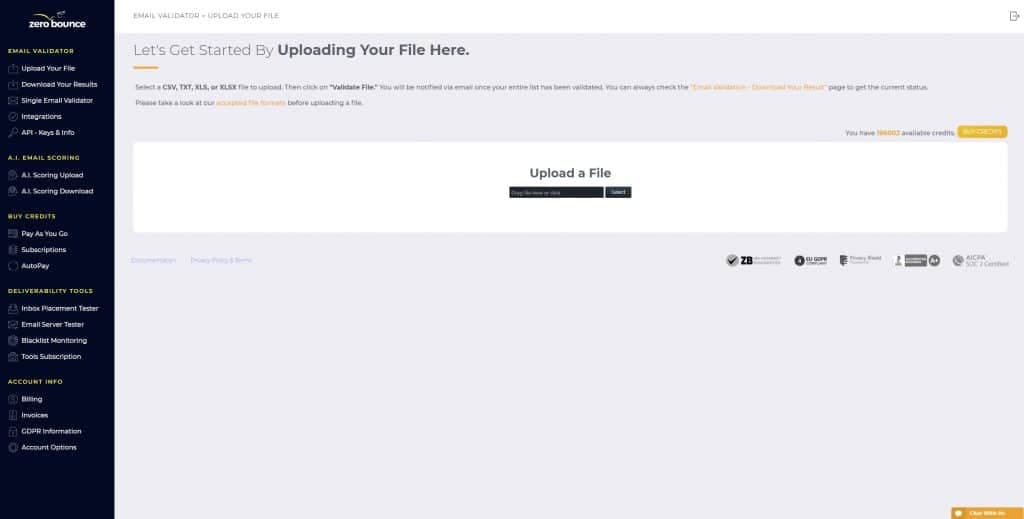 Zerobounce is a market leader when it comes to email list hygiene. That enables them to ask a premium price for their services. When it comes to quality, they truly are one of the best – but other services we compared are nearly just as well (while also being a lot more affordable).
Zerobounce offers you 100 free credits for testing. If that's not enough, you can opt in for one of their smaller packages to test them yourself.
How does Zerobounce clean your email list:
Removes invalid email addresses (nonexisting, misspelled)
Detects and removes spam traps
Detects and removes emails of people abusing the "mark as SPAM" button
Removes emails on domains without working email server
Detects catch-all emails
A.I. Email Scoring
Zerobounce pricing
| | |
| --- | --- |
| 2,000 emails (minimum order) | $16 |
| 5,000 emails | $39 |
| 10,000 emails | $65 |
| 25,000 emails | $162.50 |
| 50,000 emails | $325 |
| 100,000 emails | $390 |
Zerobounce can help you even if your list is already clean
How, you might ask. Zerobounce offers a "Email Address List Append" service. You provide a list of contacts, and zerobounce will append all the information they were able to gather about those contacts. Namely:
Full name
Gender
Geolocation data
You can then further optimize your mass emailing campaign.
Realtime API
Zerobounce too comes with a free to access API (you just need credits or a monthly plan). Their API comes with SDKs, wrappers, and complete integrations for many languages and services.
Zerobounce SDKs and API wrappers:
Java
Javascript
Python
PHP
PHP 7
Ruby
Delphi
NodeJS
.NET SDK
IOS SDK
Android SDK
GoLang
Here's a list of Zerobounce integrations with 3rd party services.
Zerobounce also offers other premium features not directly related to email list cleaning, like "blacklist monitoring" or "inbox placement tester". Read more about them here.
#3 myEmailVerifier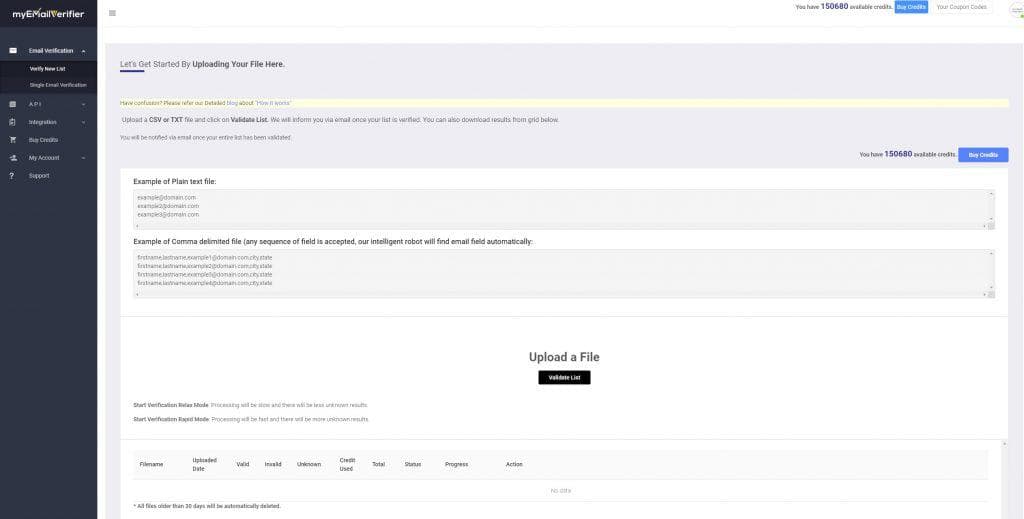 A popular and very affordable email list cleaning service. The main drawback is the less attractive UI, but the great cost per verified email makes up for it.
You can test myEmailVerified with 100 free credits and 500 upon request, just register for free here.
myEmailVerifier pricing
| | |
| --- | --- |
| 1,000 emails | $4.80 |
| 5,000 emails | $21 |
| 10,000 emails | $36 |
| 25,000 emails | $90 |
| 50,000 emails | $120 |
| 100,000 emails | $240 |
The lacking UI also means the credit payment page is not so straightforward. At first glance, you might be tempted to input an email into the first email field, due to the confusing non-standard icon. myEmailVerifier would really benefit from a redesign.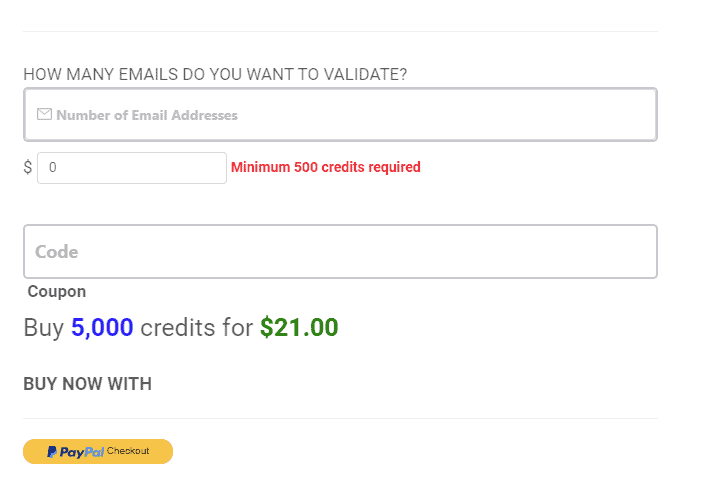 Luckily it's not the single most important thing with email cleaning services, and myEmailVerifier has worked great otherwise!
How does myEmailVerifier check your email deliverability?
Syntax Verification (Checks if the syntax matches IETF standards – just like our real-time email syntax checker)
Domain/MX Record Checker (Removes inactive or parked domains)
Catch-All Email checker (Removes servers catching all emails)
Free Domain Email Checker (Detects if an email is registered at a free email provider)
Temporary Unavailability Detection (Detects if an email is just temporarily unavailable and temporarily deletes it from a list until it's available again)
Role Account Detection (Detects role-based email addresses which often have very low open rates)
Improved Yahoo Email Verification (Some email verifiers might struggle with detecting whether a Yahoo email address is valid or not. myEmailVerifier prides itself in being great in detecting their deliverability status)
Greylist Domain Detection
Spam Trap Detection